GEEK SYSTEM
OVERVIEW

Welcome to Geek System, a collection of little applications that Geeks might find useful... ...or not! :)
Have fun with Geek System!

Well, well, well... Geeks don't care about marketing descriptions and never ever read instructions (though they usually keep their game booklets in a safe place and would be very sorry for losing these precious relics), so it is likely that the following will never be read... However, for those who really have nothing else to do (or who are just feeling curious), here is a description of what Geek System is about:
LED Clocks
Because Geeks don't use classic watches and dislike normal clocks, they usually manage to find weird devices that only them can understand. Geek Systems brings them a nice collections of LED clocks!

Binary: Enjoy a nice classic binary clock that all Geeks dream of having at home!
Reverse LCD: Enjoy a weird 4 digits LCD-like clock that only Geeks won't think it is broken!
Barcode: Enjoy a beautiful barcode clock, which displays the time using bars of LEDs in a somehow cryptic way that all Geeks love!
Blocks: Enjoy a classy blocks clock that every Geek shall have at home!



Funfair
Because Geeks love video games, they also enjoy going to funfairs to waste their pocket money playing stressful games. Geek System now lets them train at home!

Stack Game: Because Geeks need to have very good reaction time in their every day life (read: to play video games), Geek System offers them a little training with this Stack Game!
Time Master: Because Geeks must have a perfect timing to perform well in video games, Geek System kindly proposes them a nice challenge: Time Master!



Sound Experiments
Because Geeks like things that no other would pay attention to, and because they usually have ears, Geek Systems had to propose them a couple of funny sound experiments!

Dance Floor: Because real Geeks rarely go clubbing and never ever dance in public, they need a virtual dance floor to safely enjoy moving their hot body at home!
Pitch Robot: Because Geeks are too shy to talk to anyone, they find it necessary to disguise their voice when they are forced to enter a discussion... Here comes "Pitch Robot"!



Nerd Test
Because Geeks who love computers (aka "Nerds") sometimes need to check their abilities, Geek System proposes them a nice test book!


Passport
Because Geeks love numbers, they like having statistics for everything and nothing. Luckily, Geek System does record many figures for them to enjoy!

Last but not least, Geek System is environmentally friendly: the application is highly optimized, resulting in a very small binary of just a couple of hundreds kilobytes; to download Geek System to your iPhone is much faster than to get an app of several megabytes, hence it takes less power and has a lower impact on the environment! Save the planet, get Geek System instead of a big crappy app! :D

SCREENSHOTS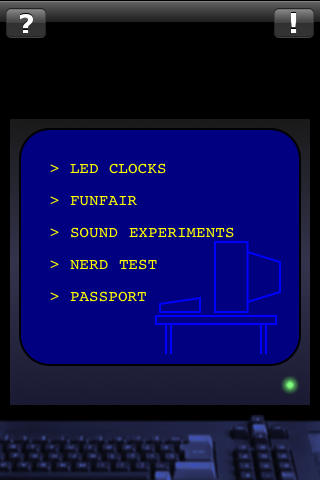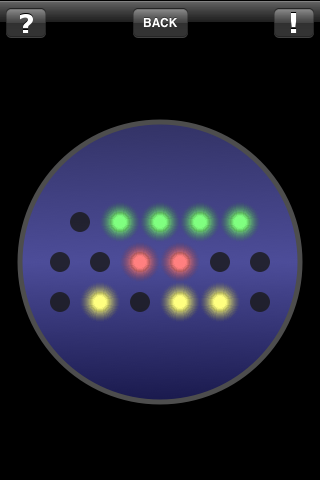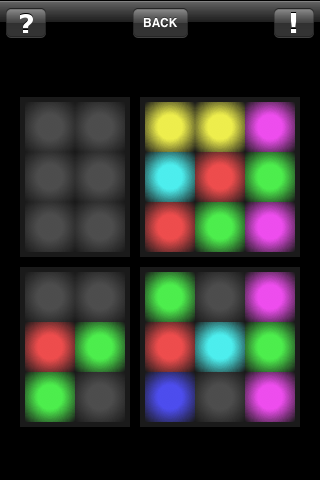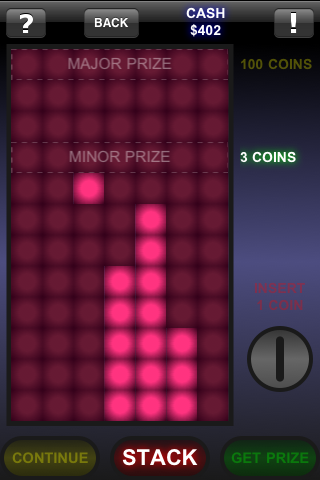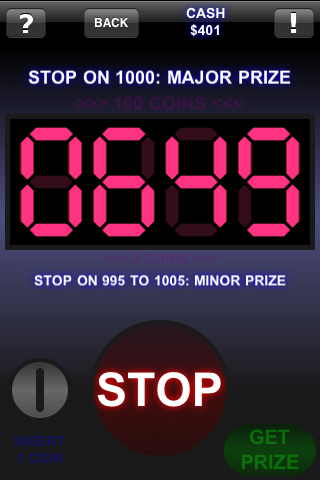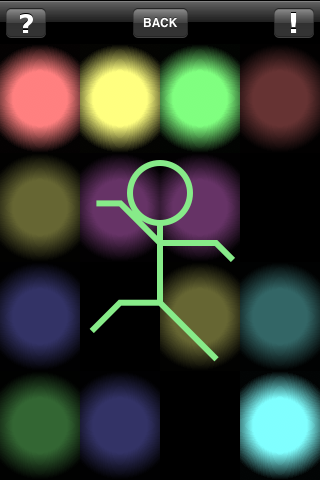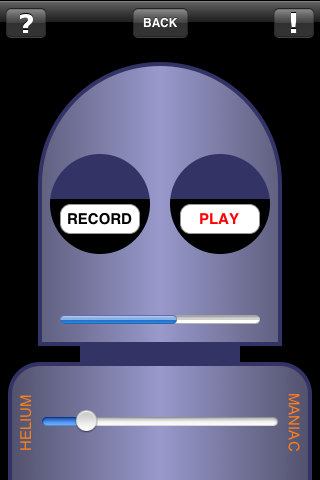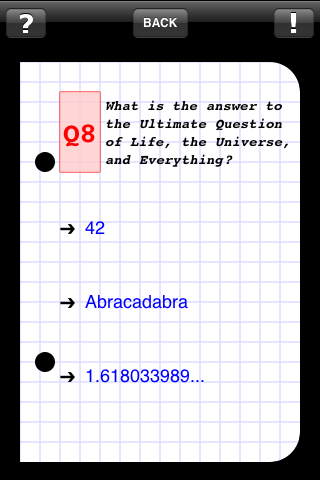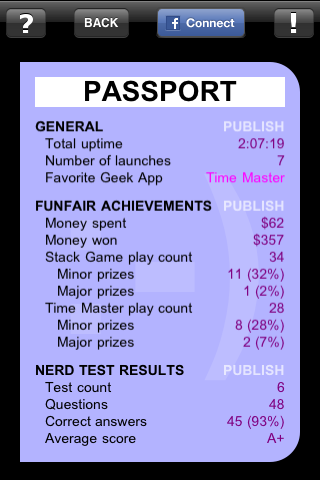 AVAILABILITY

Geek System is now available on the App Store!

SUPPORT

If you are looking for some help to answer the "Nerd Test" questions, you can visit the hints page.
To know how to publish feeds from Geek System to your Facebook account, have a look to the Facebook integration page.
For other questions or problems, please contact support.hknrx@gmail.com.